In Carla Neggers' September hardcover, KEEPER'S REACH, an absorbing, twisting tale of suspense, romance and fast-paced action, FBI agent Emma Sharpe is always on the run. She's either pursuing the bad guys in Ireland with her fiancé, undercover agent Colin Donovan, or ducking danger back home in Boston or on coastal Maine. She keeps her bag packed, ready when duty calls, her favorite spa products tucked inside her duffle.

Like Emma, Carla loves luxurious spa products, so for her July contest, she will send her grand prizewinner one of her favorites—the four-piece Discovery Set from Fragrances of Ireland. Perfect to slip into your travel bag, the set includes Fragrance of the Sea cologne, bath and shower gel, body lotion and hand cream. But best of all, Carla will send her July contest winner an advance reading copy of KEEPER'S REACH, the fifth entry in her highly heralded Sharpe & Donovan series. Four additional readers will each win another novel in the series.
As two of the FBI's most valuable agents, Emma and Colin are preparing for their wedding. But a call from Colin's brother, Mike, draws them into a case involving friends from Mike's military past. Supposedly they're now private security contractors, meeting in Maine, but the secrecy shrouding their meeting tells Mike there's more to their agenda than simple business. Mike zeroes in on one of them, Naomi McBride, a freelance civilian intelligence analyst who has never brought him anything but trouble—except for a few hot nights can forget.

Before Emma, Colin and Mike can unravel the group's secrets, Emma disappears. She's alive, barely—but for how long? Strangely, her disappearance seems related to a recently solved international art theft case. Who are the bad guys, and who can be trusted—and will Emma and Colin live to keep their date at the altar?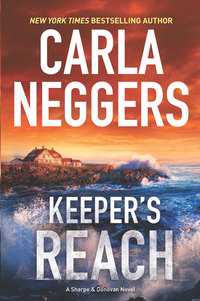 Buy KEEPER'S REACH
Contest ends: July 31, 2015