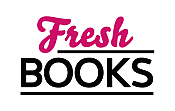 Start Fresh in September
Get to Know Your Favorite Authors
Blogging Soon:
Jade Lee

Fresh Fiction Blog
Susanne Lord | Relaxation? Do you?

When you're not writing, or reading, what is your go to activity for relaxation? Well, this question is impossible. Writing and reading historical romance areRead More...
Book Review
Today we're looking at one of our favorite types of mysteries, the cozy, mixed with the dream of many a reader -- being close to a writer of their favorite Read More...
Writing a Woman's Life
From the outside, Sycamore Glen, North Carolina, might look like the perfect all-American neighborhood. But behind the white picket fences lies a web of secrets that reach from house Read More...
Fresh Fiction Blog
Julia Justiss | Your First Crush

That sudden fascination…the nervousness of being around him but yet the compulsion to seek out his company… Can anyone forget their first crush, finally understanding why there is so Read More...
Fresh Fiction Blog
Ella Quinn | Least Likely Match

Those of you who have read my books know that I generally write characters that are fairly compatible. I mean that Polite Society would not think twice about the match Read More...