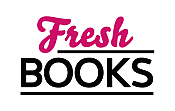 March gives us books to "roar" over
Get to Know Your Favorite Authors
Blogging Soon:
Jade Lee
Terry Spear
Kari Lynn Dell

Fresh Fiction Blog
Not all bad boys are created equal. The Bad Bachelors app is currently helping with women of New York sort Read More...
Fresh Fiction Blog
Hi, I'm Mia Hopkins and I write supersexy contemporary romance. My latest release, THIRSTY, is about an ex-convict Read More...
Cozy Corner
Sweet Teasers for New Mysteries

This week I'm featuring four new mysteries you can't pass up. These four authors have supplied a variety of different types of mysteries to choose from—like the Read More...
History ReFreshed
There's something about the cold and gloom of winter that makes it the perfect time to snuggle up by the fire or the heater with a hot beverage and Read More...
Fresh Fiction Blog
Writes: Small-town contemporary romance. I'm launching my new series, Crawford Falls, beginning with the Read More...
Fresh Fiction Blog
Hidden Cities is a series of horror and dark fantasy fiction novels by Tim Lebbon and Christopher Golden. "Mind the Gap" was the first novel in the Hidden Read More...