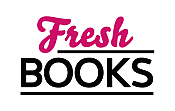 Hearts and Love, great reads in February
Get to Know Your Favorite Authors
Blogging Soon:
Jade Lee
Paige Shelton

Fresh Fiction Blog
Lia bounced on her toes, pride in her eyes as she grabbed hold of Travis's wrist and held on tight. "Colly, meet Travis. Travis, meet—"

"The Read More...
Fresh Fiction Blog
Liz Crowe | Time to get TAPPED

You can craft a novel about a second chance at love, a young/first love, a May-December love, an older man meets young virgin love, surprise/chance meeting love Read More...