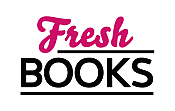 New Year, New Books to love in January
Get to Know Your Favorite Authors
Blogging Soon:
Jade Lee

Cozy Corner
The new year is always filled with fresh prospects, new beginnings and hope for a better tomorrow. Yet sometimes, you just want to hang onto what made you comfortable last Read More...
Fresh Fiction Blog
Nicole Helm | Dinner Party Guests...

If you could invite any five characters (from books or movies or TV) to dinner, who would they be and why? It's impossible to pick only Read More...
Fresh Fiction Blog
Amanda Forester | EARL INTERRUPTED

Captain Lord Darington is accustomed to commanding his ship as a much renowned and feared privateer. Who would have thought it would be on English soil that he would be Read More...
Fresh Fiction Blog
Author Reader Match
Instead of trying to find your perfect match in a dating app, we bring you the "Reader Match" where we introduce you Read More...
Author News
My angel is all caught up in the holiday spirit. No matter what I say, she insists I take the time to enjoy the tree lights and sing Christmas carols Read More...