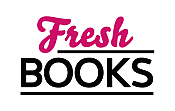 Let your reading blossom in May!
Get to Know Your Favorite Authors
Blogging Soon:
Jade Lee

Fresh Fiction Blog
A Day in the Life of Sarah Brandt Malloy…
Malloy and I have been back from our honeymoon for several weeks now, and we Read More...
Fresh Fiction Blog
Exclusive Excerpt:
Fresh Fiction Blog
Julia Justiss | IN THE BEGINNING…

Where does an author come up with her stories? Sometimes from watching a movie or reading a book or news article that piques her interest and gets her thinking "What Read More...
Fresh Fiction Blog
Elaine Viets | The Art of Living

I don't enjoying looking at rich people's art and old furniture, so I'm not a fan of most house museum tours. There's only one exception:
Read More...
Fresh Fiction Blog
This winter has been unusually mild, but most years the power goes out here in snowy, rainy, windy New England. Hundreds of thousands of homes lose electricity, ours being one Read More...
Fresh Fiction Blog
I love food. I love to eat food, cook food, and watch chefs make food on TV, so when I thought of Tessa Lawrence, the protagonist for Read More...
Fresh Fiction Blog
I have always loved the friends to lovers romance trope. The challenge to making a story like this work is to be able to first show how good Read More...
Author News
Green is the color between blue and yellow on the spectrum of visible light. It is evoked by light with a predominant wavelength of roughly 495–570 nm. In Read More...
Writing a Woman's Life
Meet Susan Shapiro - Passion Rekindled

Is it dangerous to search for an old flame you never got over? What if you find him—and he doesn't remember you? In her captivating new novel, Read More...
Young Adult Musings
Having lived in the South all my life, I have an interesting relationship with books set in the South or featuring Southern characters. The stereotypes about Southern people/life, particularly Read More...
Fresh Fiction Blog
TR Ragan | Finding Time To Write

When I first started writing I had two big obstacles to overcome—finding the time to write and writing in the midst of chaos. It all began twenty-four years Read More...
Cozy Corner
What's in a name? Everything when it comes to a cozy mystery. It must be witty, eye-catching, combine a hint about the series and the Read More...