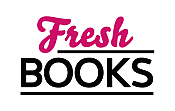 Steamy, hot August books. Fans anyone?
Get to Know Your Favorite Authors
Blogging Soon:
Jade Lee
Ella Quinn

Author News
Nina Croft's, CHOSEN, book 1 in the Laws of Segregation, is free for three days only: 23 - 25th August Read More...
Fresh Fiction Blog
DiAnn Mills | The Scoop on Research

Writing romantic suspense is my passion. I stay awake at night planning a story in which a strong and vibrant heroine attempts the impossible, the forbidden, or the dangerous for Read More...
Fresh Fiction Blog
Christina McKnight | A World Of Mystery

Thank you for stopping by Fresh Fiction for all your reading needs and recommendations. I'm bestselling historical romance author, Christina McKnight. My writing style focuses on strong heroines who Read More...
Cozy Corner
It doesn't matter where you are, what century you live in, or what culture you embrace, you will always find a woman on a mission—to better her life Read More...
Author News
Gail Ingis | Back to Coney Island

Suspended . . . Coney Island painting project. The beach, Washington Baths, swimming, blackball, cool sand under the boardwalk, with friends, watching Tuesday night fireworks, Nathan's hotdogs, French fries and steamed Read More...
Fresh Fiction Blog
The thing about weekends is they're rarely perfect. The other thing about weekends, though, is if you chase perfection too hard, you'll destroy any chance you Read More...
Writing a Woman's Life
At the moment of the Emperor's death, everything changes in the palace. Mei, his former concubine, is free, and Pheasant, the heir and Mei's lover, is proclaimed as Read More...
Fresh Fiction Blog
Be free and happy and danceful and uninhibited and now-y! ~Terri Guillemets I love that quote. And I love summer. It's my favorite season. I love Read More...
Fresh Fiction Blog
Ready to play Author Match? I hope so because I've got an author on hand who you'll want to check out ASAP! Writes: Contemporary romance with Read More...
Fresh Fiction Blog
M.L. Buchman | An Ideal Weekend

I sometimes think that it would be healthier if my characters and I had slightly different ideas about what made up an ideal weekend. Now my characters are somewhat younger Read More...
Author News
Ever Read Book Acknowledgements?

When you pick up a book at your local bookstore or library, or download it to your electronic device, do you ever read the acknowledgment page? These are the people Read More...
Cozy Corner
Since I'm a secret readaholic who loves cloak and dagger mysteries, my choices this week shouldn't put you at death's door or make you scream bloody murder Read More...
Fresh Fiction Blog
David Misch was born in a humble log cabin in 1946, then again in a split-level thatched roof cottage in 1950. Growing a remarkable twelve inches a day (though Read More...