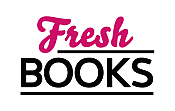 New Year, New Books
Get to Know Your Favorite Authors
Blogging Soon:
Jade Lee
Kat Martin
Kristi Abbott
Vanessa Vale

Fresh Fiction Blog
Everyone has a favorite baseball song and Heidi McLaughlin is no exception. As the author of the Boys of Summer Read More...
Writing a Woman's Life
Meet Holly Robinson, author of FOLLY COVE

The Bradford sisters are famous in Rockport, Massachusetts: for their beauty, their singing voices, their legendary ancestors, and their elegant mother, Sarah, who has run the historic Folly Cove Inn Read More...
Fresh Fiction Blog
From critically acclaimed author Laura Bickle (DARK ALCHEMY) comes the first novel in the Wildlands series, Read More...
Author News

Get Ready for the 2017 Midnight Sons Trilogy by Debbie Macomber


Fresh Fiction Blog

Looking for your next Inspirational Amish read? This collection of four heartwarming Amish excerpts from Thomas Nelson, Love Inspired and Zondervan has you covered!

Free download

Read More...

History ReFreshed

A Christmas Pride And Prejudice


What could be a lovelier Christmas gift than more Elizabeth and Darcy? Given the plethora of P&P adaptations, remakes and variations, the answer must be "nothing!" For your Read More...

Cozy Corner

It's almost time to sing Auld Lang Syne and as I reflect over the blogs I've posted for 2016, I realize what an amazing year I've had Read More...