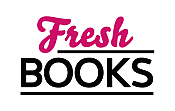 Spring flowers, great May books to enjoy!
Get to Know Your Favorite Authors
Blogging Soon:
Jade Lee

Cozy Corner
by Sharon Pape and Kym Roberts It always amazes me when I approached an author I don't know with a hairbrained idea, and she actually Read More...
Cozy Corner
Everyone is more than ready for the trees to bloom and the flowers to sprout. The temperatures are finally rising and hopefully *fingers crossed* we've all experience the last Read More...
Fresh Fiction Blog
Marie Bostwick | Fierce Beyond 50

The older I get, the more I realize that those changes keep coming. Sometimes they bring joy. Sometimes they bring sorrow. Sometimes, it's a little of both. Part of Read More...
Fresh Fiction Blog
Jane Godman | Why Choose Paranormal?

I read and write other genres of romance, but paranormal calls me back time after time. I do write about werewolves and vampires, but my romances feature other paranormal races Read More...