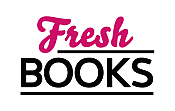 Romance and thrills in October to read
Get to Know Your Favorite Authors
Blogging Soon:
Jade Lee
Kim Redford
Melanie Card
Laura Childs
Isabella Alan
Sheila Connolly
Frank Hayes
Miranda Liasson
Jane Ashford
Rosanne Bittner
Laurie McBain
Nicole Dennis

Young Adult Musings
Over the summer, I worked at a public library, and there was a parent who wanted an award winning MG/YA graphic novel removed from our collection because there are Read More...
Cozy Corner
I went to my local department store and was surrounded by ghost and goblins. Iím not talking about the spooky masks, and scary decorations. Iím talking about those Read More...
Fresh Fiction Blog
For the past seven years, Iíve written books. Young Adult books. Contemporary Romance books. Humorous books. All kinds of books. Five out of eight of these books have been Read More...
New and Now
In general, Iím not one for sports. I donít find sitting in a stadium or on a couch watching people pass a ball around exciting, but I do Read More...
History ReFreshed
With PBS set to begin another lush historical series, Indian Summers, set in the waning days of British rule in 1930s India, itís time to look at Read More...
New and Now
Do you ever wonder why you find a certain genre so appealing? Last month was National Romance Awareness Month, and this prompted me to consider why I love reading romance Read More...
Fresh Fiction Blog
Melissa DeCarlo | Truth in Fiction

In retrospect, I should have seen it coming. Itís probably happened to most writers whoíve chosen first-person narration, that moment when they realize with a joltóat Read More...
Writing a Woman's Life
I categorize every single name I hear as better or worse than mine; Iíve been doing this pretty much my entire life. Iíd say ninety-nine percent fall Read More...