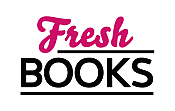 Best books for October
Fresh Fiction Blog
There have been some changes occurring in the Cullen household over the past year or so.
When you have children, you think they will never grow up Read More...
Fresh Fiction Blog
Bradley Harper | You Don't Say?

Dialogue is an ancient Greek stage direction, meaning "action through words." One of the first critiques I got from an agent, looking at my neatly printed manuscript was "There Read More...