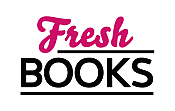 Great March books to "roar" about!
Get to Know Your Favorite Authors
Blogging Soon:
Jade Lee
Donna Alward
Laura Childs
Kris Rafferty

Cozy Corner
For Womenís History Month, I felt it was only fitting to pay homage to the female authors of the past who continue to captivate mystery readers across generations. With Read More...
Fresh Fiction Blog
I once shut down a Haunted House experience at a seaside resortóaged thirty-eight. Too terrified to move forward or retrace my steps, the lights had to be turned Read More...
Fresh Fiction Blog
Enjoy an excerpt from AVALANCHE where the hero and heroine meet! First meetings are the best!
Excerpt
Read More...
Fresh Fiction Blog
For more than twenty years, America has been obsessed with reality TV. Something about watching ďrealĒ people engage in a variety of activities calls to our inner voyeurs. Producers love Read More...
Author News
Writing fiction fell upon me through my own devices of dreams and things. After some research online where I found the affair of my 19th century, barely out of Read More...
Author News
I'm so excited you stumbled upon this little corner of the ever changing mystery of writing. The ever eluding story, fiction or nonfiction. I write about all things Read More...