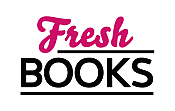 August 'hot' reads!
Get to Know Your Favorite Authors
Blogging Soon:
Jade Lee
Shawn Smucker
Ann H. Gabhart
Melody Carlson
Bethany Turner
Jen Gilroy

1 - 12 of 300 ( First | more )
1 - 12 of 300 ( First | more )
Fresh Press monitors more than 65 nationally broadcast television and radio programs and delivers a comprehensive listing of the books and authors featured in a daily newsletter. Sign up for Fresh Press by subscribing today.