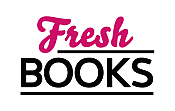 Fall into September books you'll love
Meet Fresh Fiction
Co-Founder, CEO and Editor-In-Chief
Sara Reyes
Sara leads Fresh Fiction's administrative and editorial teams, a role she's held since 2004. As a marketing strategies expert on attracting, retaining, and growing a reader base, Sara coaches clients on author branding, email marketing, and more. Contact her at [email protected] to schedule a consulting session, or if interested in advertising or promotional opportunities with Fresh Fiction.
Co-Founder, COO and Events Director
Gwen Reyes
Gwen oversees all Fresh Fiction reader events in Dallas-Fort Worth. She's also the Literary Contributor on WFAA-TV (local ABC affiliate) for their Buy the Book and Wednesday Reads segments. Contact her at [email protected] to learn about speaking opportunities and event sponsorships.
Billing Manager
Editorial Manager
Fresh Fiction Podcast
Shipping and Receiving Manager
Current Reviewers
Rosie B
Bharti C
Ruth Castleberry
S. Lyn Collins
Teresa Cross
Debbie Devita
Susan Dyer
Angie Elle
Alison Ellis
Jessica Grogan
Evie Harris
Make Kay
Audrey Lawrence
Svetlana Libenson
Sandra Martin
Laura Mueller
Clare O'Beara
Miranda Owen
Kishor Rao
Robin Reynolds
Kim Roller
Jennifer Rummel
Sharon Salituro
Karen Siddall
Annetta Sweetko
Maddy Taylor
Annie Tegelan
Debbie Wiley
Sandra Wurman

About Us
Fresh Fiction is part of Off-The-Edge, LLC
5960 West Parker Road
Suite 278-119
Plano, Texas 75093
Contact