1 - 12 of 732 ( First | more )
Featured November 25, 2020
on News at 4: Wednesday Reads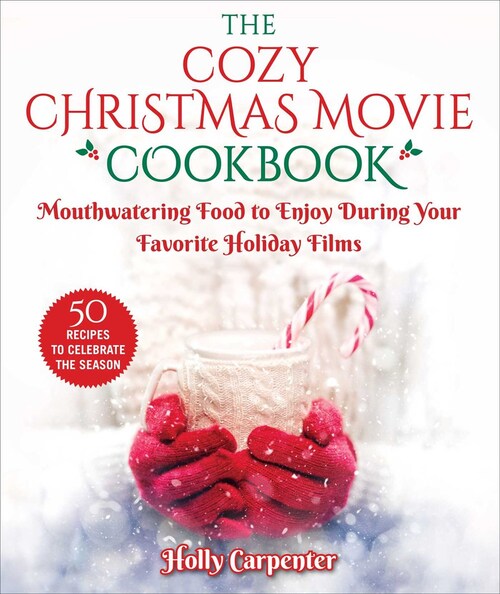 Mouthwatering Food to Enjoy During Your Favorite Holiday Films
Cookbooks [Skyhorse, On Sale: October 20, 2020, Hardcover / e-Book, ISBN: 9781510759572 / eISBN: 9781510759503]
---
Featured November 11, 2020
on News at 4: Wednesday Reads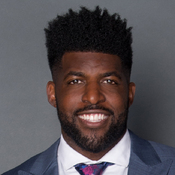 An urgent primer on race and racism, from the host of the viral hit video series
"Uncomfortable Conversations with a Black Man"

"You cannot fix a problem you do not know you have." So begins Emmanuel Acho in his essential guide to the truths Americans need to know to address the systemic racism that has recently electrified protests in all fifty states. "There is a fix," Acho says. "But in order to access it, we're going to have to have some uncomfortable conversations."

In Uncomfortable Conversations With a Black Man, Acho takes on all the questions, large and small, insensitive and taboo, many white Americans are afraid to ask—yet which all Americans need the answers to, now more than ever. With the same open-hearted generosity that has made his video series a phenomenon, Acho explains the vital core of such fraught concepts as white privilege, cultural appropriation, and "reverse racism." In his own words, he provides a space of compassion and understanding in a discussion that can lack both. He asks only for the reader's curiosity—but along the way, he will galvanize all of us to join the antiracist fight.
Non-Fiction [Flatiron, On Sale: November 10, 2020, Hardcover / e-Book, ISBN: 9781250800466 / eISBN: 9781250800480]
---
Featured November 4, 2020
on News at 4: Wednesday Reads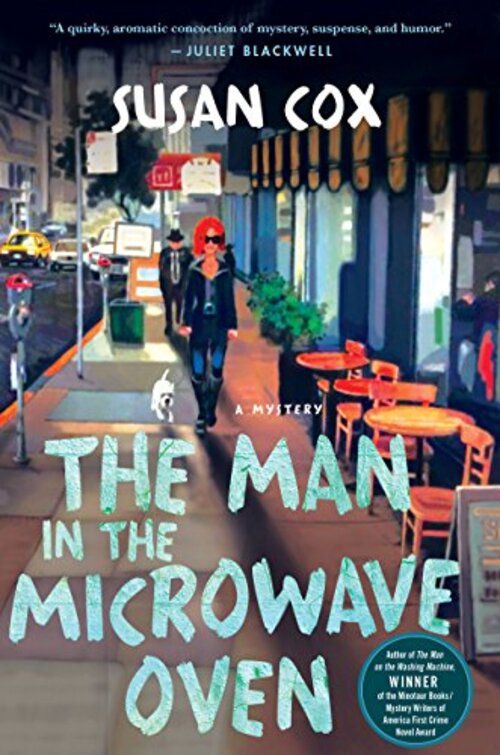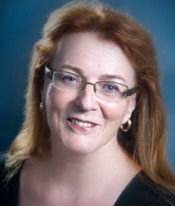 Following Susan Cox's Minotaur Books/Mystery Writers of America First Crime Novel award-winning debut, The Man in the Microwave Oven is her next delightfully quirky mystery featuring San Francisco transplant Theo Bogart.

Fleeing from a murder and family tragedy in her native England, where she was the scandal du jour for the tabloid press, Theo Bogart changed her name and built an undercover life in a close-knit San Francisco neighborhood. She didn't expect to find love and friendship there, and now she doesn't know how—or if—to reveal the truth.

After a confrontation with a difficult neighbor, Theo fears her secrets are about to be uncovered after all. When the woman who threatened to expose her is murdered, Theo is embroiled in the kind of jeopardy she crossed an ocean to escape. Worse yet, dangerous family secrets have followed her. Theo's grandfather unveils a glimpse of the shadowy world he once inhabited as an agent for the British Secret Service, bringing an even bigger breed of trouble—and another death—to Theo's doorstep. She finds herself fighting to protect herself, her family, and her new friends, aware that one of them might be a murderer.

Susan Cox has once again painted a delightfully quirky portrait of a colorful San Francisco neighborhood and a woman finding her way through exactly the kind of scandalous mystery she was trying to leave behind.
Mystery [Minotaur Books, On Sale: November 3, 2020, Hardcover / e-Book, ISBN: 9781250116208 / eISBN: 9781250116215]
---
Featured October 28, 2020
on News at 4: Wednesday Reads

Haunted Mansion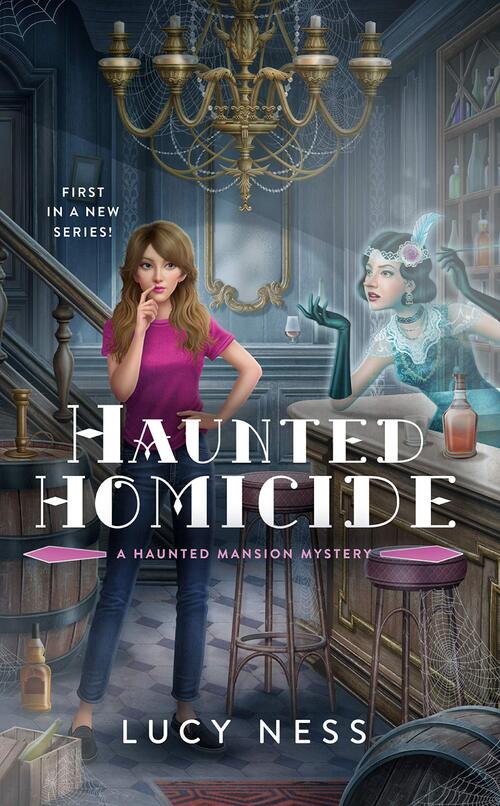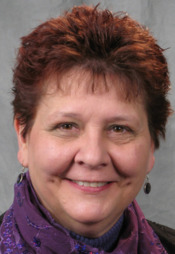 Avery Morgan has been hired to breathe new life into the Portage Path Women's Club, but first she'll have to deal with a dead body and a meddling ghost.

Avery Morgan has had a harrowing first week on the job as manager of the Portage Path Woman's Club. Not only is she in charge of a grand old home with a mountain of maintenance problems and scheduling nightmares--thanks to a recent fire in the Marigold meeting room--but she's also got Muriel Sadler to deal with. Muriel is the current president of the club, the one "nay" vote when the rest of the board voted "aye" to hiring Avery.

After a morning of dealing with another one of Muriel's snits and a meeting with the delicious and delightfully unsettling Ben Harkness, who will be handling renovations in the fire-damaged portions of the house, the last thing Avery needs is for one of the fuses to blow. Again.

She grabs her handy flashlight and heads into the basement, where she stumbles across Muriel's body. She also stumbles across an unexpected helper, Clemmie Bow, the ghost of a young woman who was accidentally killed in the building almost a hundred years ago.

Together Clemmie and Avery are determined to solve Muriel's murder before the killer sends Avery to join Clemmie on the other side.
Mystery Cozy [Berkley Prime Crime, On Sale: September 29, 2020, Mass Market Paperback / e-Book, ISBN: 9781984806772 / eISBN: 9781984806789]
Fresh and sassy, Haunted Homicide is a spirited debut to this new cozy mystery series!

Perfect cozy mystery with a touch of spookiness

Fresh and sassy, Haunted Homicide is a spirited debut to this new cozy mystery series!

Perfect cozy mystery with a touch of spookiness

---
Featured October 7, 2020
on News at 4: Wednesday Reads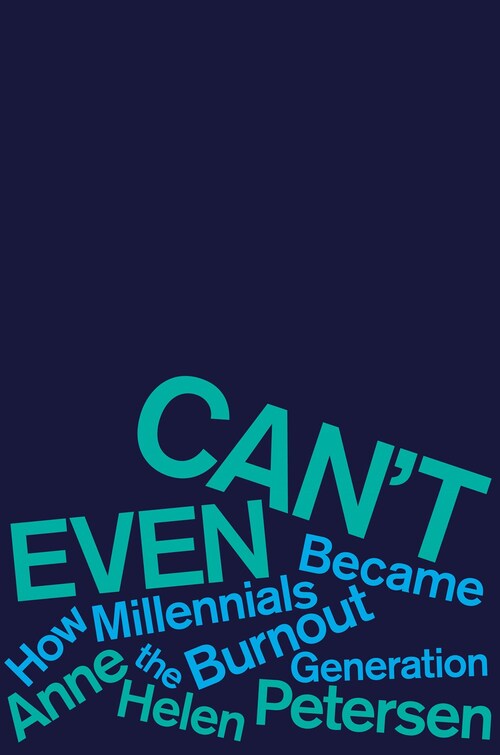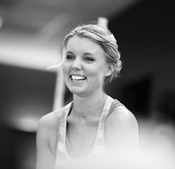 How Millennials Became the Burnout Generation
An incendiary examination of burnout in millennials—the cultural shifts that got us here, the pressures that sustain it, and the need for drastic change

Do you feel like your life is an endless to-do list? Do you find yourself mindlessly scrolling through Instagram because you're too exhausted to pick up a book? Are you mired in debt, or feel like you work all the time, or feel pressure to take whatever gives you joy and turn it into a monetizable hustle? Welcome to burnout culture.

While burnout may seem like the default setting for the modern era, in Can't Even, BuzzFeed culture writer and former academic Anne Helen Petersen argues that burnout is a definitional condition for the millennial generation, born out of distrust in the institutions that have failed us, the unrealistic expectations of the modern workplace, and a sharp uptick in anxiety and hopelessness exacerbated by the constant pressure to "perform" our lives online. The genesis for the book is Petersen's viral BuzzFeed article on the topic, which has amassed over seven million reads since its publication in January 2019.

Can't Even goes beyond the original article, as Petersen examines how millennials have arrived at this point of burnout (think: unchecked capitalism and changing labor laws) and examines the phenomenon through a variety of lenses—including how burnout affects the way we work, parent, and socialize—describing its resonance in alarming familiarity. Utilizing a combination of sociohistorical framework, original interviews, and detailed analysis, Can't Even offers a galvanizing, intimate, and ultimately redemptive look at the lives of this much-maligned generation, and will be required reading for both millennials and the parents and employers trying to understand them.
Non-Fiction [Houghton Mifflin Harcourt, On Sale: September 22, 2020, Hardcover / e-Book, ISBN: 9780358315070 / eISBN: 9780358316596]
---
Featured October 6, 2020
on Good Morning Texas - Buy The Book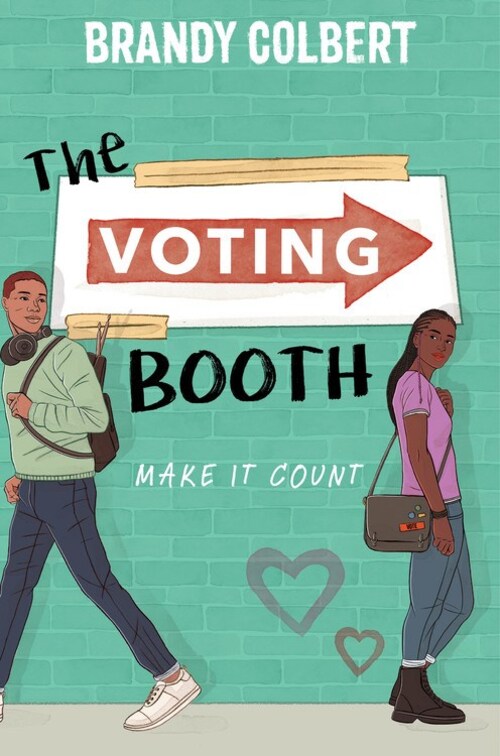 From Stonewall Award-winning author Brandy Colbert comes an all-in-one-day love story perfect for fans of The Sun is Also A Star. Marva Sheridan was born ready for this day. She's always been driven to make a difference in the world, and what better way than to vote in her first election? Duke Crenshaw is so done with this election. He just wants to get voting over with so he can prepare for his band's first paying gig tonight. Only problem? Duke can't vote. When Marva sees Duke turned away from their polling place, she takes it upon herself to make sure his vote is counted. She hasn't spent months doorbelling and registering voters just to see someone denied their right. And that's how their whirlwind day begins, rushing from precinct to precinct, cutting school, waiting in endless lines, turned away time and again, trying to do one simple thing: vote. They may have started out as strangers, but as Duke and Marva team up to beat a rigged system (and find Marva's missing cat), it's clear that there's more to their connection than a shared mission for democracy. Romantic and triumphant, The Voting Booth is proof that you can't sit around waiting for the world to change? But some things are just meant to be.
Young Adult [Disney-Hyperion, On Sale: July 7, 2020, Hardcover / e-Book, ISBN: 9781368053297 / eISBN: 9781368053686]
---
Featured October 6, 2020
on Good Morning Texas - Buy The Book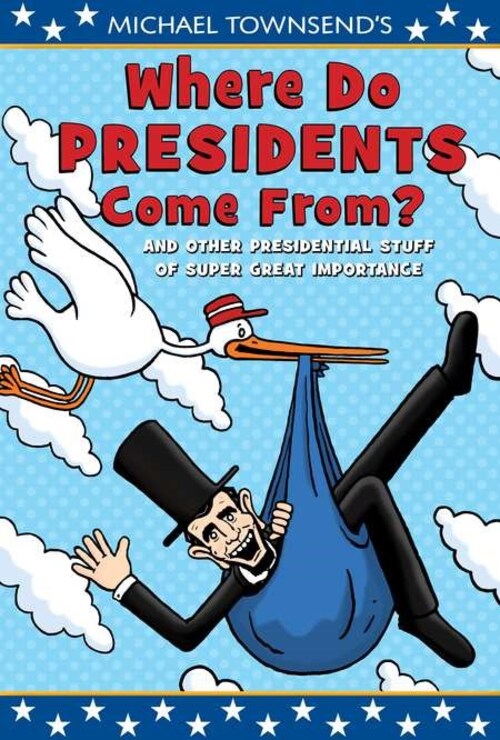 And Other Presidential Stuff of Super Great Importance
United States history comes alive in this laugh-out-loud nonfiction graphic novel all about the presidents!

Michael Townsend presents his comic book guide to everything you ever wanted to know (and maybe a few things you didn't!) about the President of the United States. It's full of insanely weird facts about our leaders (Did you know that President Coolidge had a pet pygmy hippo named Billy?), as well as the history and powers of the presidency, day-to-day life, and pros and cons of the job. Even the most mundane of facts become hilarious in this brilliantly cheeky guide to our nation's MVP.
Childrens | Graphic Novel [Puffin, On Sale: January 9, 2014, Paperback / e-Book, ISBN: 9780147510709 / eISBN: 9781101652152]
---
Featured October 6, 2020
on Good Morning Texas - Buy The Book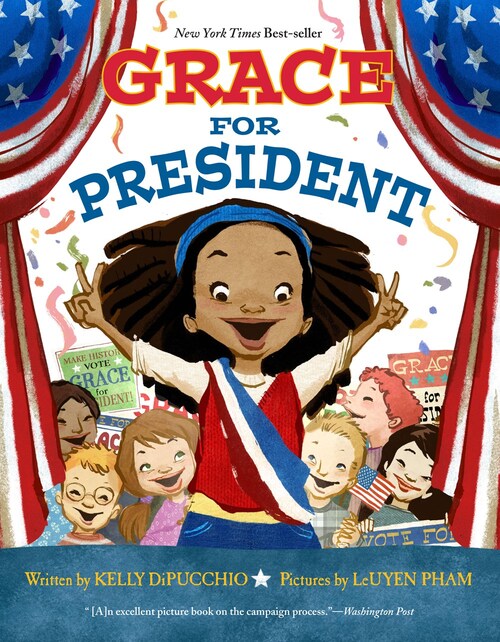 A fresh, fun, and "thought-provoking" New York Times bestseller about the American electoral college and why every vote counts from bestselling and award-winning duo Kelly DiPucchio and LeUyen Pham.

"Where are the girls?"

When Grace's teacher reveals that the United States has never had a female president, Grace decides she wants to be the nation's first and immediately jumpstarts her political career by running in her school's mock election! The race is tougher than she expected: her popular opponent declares that he's the "best man for the job" and seems to have captured the votes of all of the class's boys. But Grace is more determined than ever. Even if she can't be the best man for the job, she can certainly try to be the best person!

This timely story not only gives readers a fun introduction to the American electoral system but also teaches the value of hard work, courage, independent thought -- and offers an inspiring example of how to choose our leaders.
Childrens [Little, Brown Books for Young Readers, On Sale: October 4, 2018, Hardcover / e-Book, ISBN: 9781423139997 / eISBN: 9781368041683]
---
Featured October 6, 2020
on Good Morning Texas - Buy The Book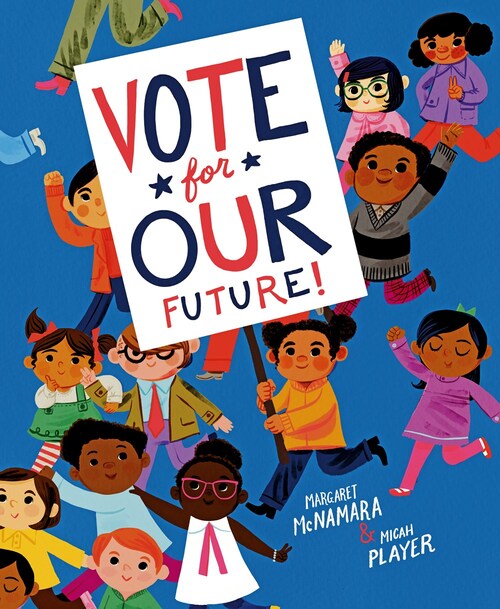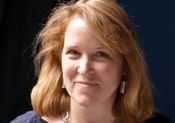 In this charming and powerful picture book about voting and elections, the students of Stanton Elementary School learn how we can find--and use--our voices for change.

Every two years, on the first Tuesday of November, Stanton Elementary School closes for the day. For vacation? Nope! For repairs? No way! Stanton Elementary School closes so that it can transform itself into a polling station. People can come from all over to vote for the people who will make laws for the country. Sure, the Stanton Elementary School students might be too young to vote themselves, but that doesn't mean they can't encourage their parents, friends, and family to vote! After all, voting is how this country sees change--and by voting today, we can inspire tomorrow's voters to change the future.
Childrens [Schwartz & Wade, On Sale: February 18, 2020, Hardcover / e-Book, ISBN: 9781984892805 / eISBN: 9781984892829]
---
Featured October 6, 2020
on Good Morning Texas - Buy The Book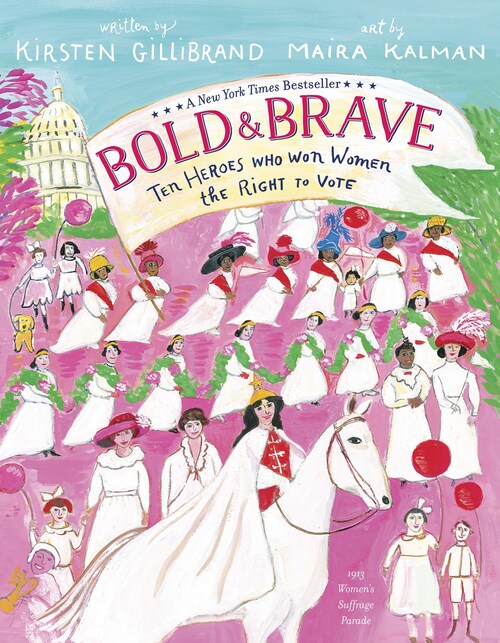 Ten Heroes Who Won Women the Right to Vote
The perfect read for the one-hundredth anniversary of the nineteenth amendment and in advance of the upcoming presidential election, this inspiring picture book from United States Senator Kirsten Gillibrand shares the stories of ten suffragists who fought for women's right to vote.

Bold & Brave introduces children to strong women who have raised their voices on behalf of justice--and inspires them to raise their own voices to build our future.

Here are the stories of ten leaders who strove to win the right to vote for American women--a journey that took more than seventy years of passionate commitment. From well-known figures, such as Susan B. Anthony and Sojourner Truth to lesser known women such as Alice Paul and Mary Church Terrell, these are heroes who dreamed big and never gave up. Senator Gillibrand highlights an important and pithy lesson from each woman's life--from "dare to be different" to "fight together."

With gorgeous illustrations by renowned artist Maira Kalman, this is a book that will inspire and uplift, a book to be cherished and shared.

The suffragists included are: Elizabeth Cady Stanton, Susan B. Anthony, Sojourner Truth, Harriet Tubman, Jovita Idár, Alice Paul, Inez Milholland, Ida B. Wells, Lucy Burns, and Mary Church Terrell.
Childrens [Knopf Books for Young Readers, On Sale: November 13, 2018, Hardcover / e-Book, ISBN: 9780525579014 / eISBN: 9780525579038]
---
Featured September 23, 2020
on News at 4: Wednesday Reads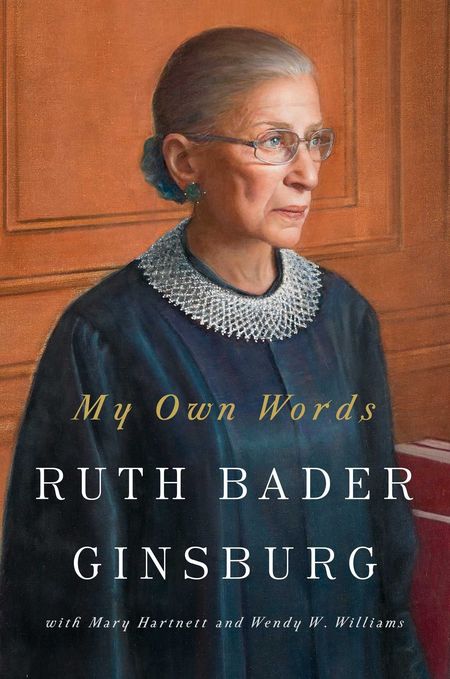 The first book from Ruth Bader Ginsburg since becoming a Supreme Court Justice in 1993—a witty, engaging, serious, and playful collection of writings and speeches from the woman who has had a powerful and enduring influence on law, women's rights, and popular culture. My Own Words offers Justice Ginsburg on wide-ranging topics, including gender equality, the workways of the Supreme Court, being Jewish, law and lawyers in opera, and the value of looking beyond US shores when interpreting the US Constitution. Throughout her life Justice Ginsburg has been (and continues to be) a prolific writer and public speaker. This book's sampling is selected by Justice Ginsburg and her authorized biographers Mary Hartnett and Wendy W. Williams. Justice Ginsburg has written an introduction to the book, and Hartnett and Williams introduce each chapter, giving biographical context and quotes gleaned from hundreds of interviews they have conducted. This is a fascinating glimpse into the life of one of America's most influential women.
Non-Fiction Memoir [Simon & Schuster, On Sale: October 4, 2016, Hardcover / e-Book, ISBN: 9781501145247 / eISBN: 9781501145261]
---
Featured September 16, 2020
on News at 4: Wednesday Reads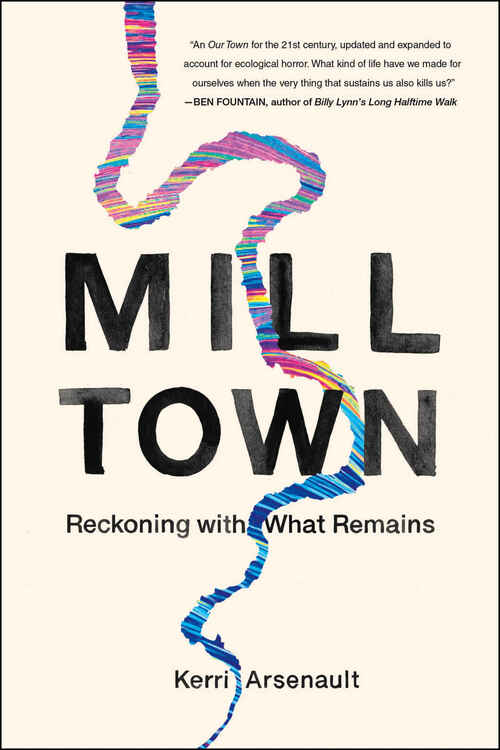 Reckoning with What Remains
A galvanizing and powerful debut, Mill Town is an American story, a human predicament, and a moral wake-up call that asks: what are we willing to tolerate and whose lives are we willing to sacrifice for our own survival?

Kerri Arsenault grew up in the rural working class town of Mexico, Maine. For over 100 years the community orbited around a paper mill that employs most townspeople, including three generations of Arsenault's own family. Years after she moved away, Arsenault realized the price she paid for her seemingly secure childhood. The mill, while providing livelihoods for nearly everyone, also contributed to the destruction of the environment and the decline of the town's economic, physical, and emotional health in a slow-moving catastrophe, earning the area the nickname "Cancer Valley."

Mill Town is a personal investigation, where Arsenault sifts through historical archives and scientific reports, talks to family and neighbors, and examines her own childhood to illuminate the rise and collapse of the working-class, the hazards of loving and leaving home, and the ambiguous nature of toxins and disease. Mill Town is a moral wake-up call that asks, Whose lives are we willing to sacrifice for our own survival?
Non-Fiction | Non-Fiction Memoir [St. Martin's Press, On Sale: September 1, 2020, Hardcover / e-Book, ISBN: 9781250155931 / ]
---
1 - 12 of 732 ( First | more )
As WFAA-TV Literary contributor on ABC Channel 8 in the Dallas - Fort Worth area, Gwen Reyes presents books or other literary news each Wednesday on the 4 pm news cast and during the month on Good Morning Texas. Catch the video of the segments on our YouTube channel.